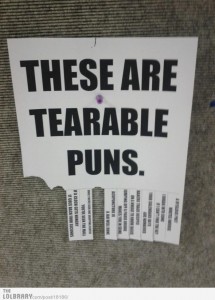 I like puns. This used to be a mild source of embarrassment, something you wouldn't readily admit, like possessing a rock collection past age 10 or knowing too much of the X-Men backstory.
I think puns have attracted at least a slim leather-jacket covering of cool, recently, though. This may be a consequence of where I've lived the last few years — hipster-nerdy Brooklyn and college town-nerdy Madison — but there's also Twitter as evidence. Goddamn, do people like to tweet puns. And I've seen the raucous crowds at "Punderdome 3000" in Park Slope (which I've covered — repeatedly — here).
So, it perhaps surprised me less than it might have surprised others that Madison's first amateur pun competition, this week's "Pundamonium," drew a sizable crowd. Nerd Nite, a celebration of geekery, does well here (at the same venue, to boot, High Noon Saloon). Pundamonium's host, Art Allen, seemed pleasantly surprised so many Madisonians decided to proudly fly their Dad Joke flags. Art brought the show, to test it out, from Minneapolis, where he hosts it regularly. He hopes to make it regular in Madison, too. Here's my review, with some unsolicited and probably annoying advice on how to make that happen:
* The Good: Pundamonium works similarly to a poetry slam: punners pun their puns, and judges selected from the audience judge the contestants via whiteboards held aloft. The contestants go through several elimination rounds, whittling things down to the punniest of them all. Each round, punners get a prompt, and must play violently with the language from that springboard.
Pundamonium keeps things fresh each round, though, by mixing up the format. First round, punnists get their prompt while in the audience and have some time to mull it over. Second round, they receive a prompt on stage and get a mere half-minute to prime the punp (get it?). Final rounds, two contestants share a mic and a prompt — it's open season and each one can jump up to the mic when they have an idea. This, for the best punners, turns into the Dozens, but with puns. Some attitude-laden insults spice up the dork humor nicely.
Also, each round had its own flavor and rhythm, unlike other pun shows (ok, THE other pun show) I've seen, in which the rounds got repetitive.
Some folks had some good runs of puns (or pruns, if you will, which you probably won't). My fave: a punndanista got islands as a prompt and showed an impressive knowledge of world geography, basing all his puns on actual island names. ("If you get a drink, don't worry, they can make it a Virgin…Hey man, you look sick. UK?").
* The Bad: This is an amateur contest, and the shorter time periods made some of the contestants go blank. It's no coincidence the two finalists were members of the same Madison-area improv comedy team. To make this thing sustainable, it needs to offer a chance to more than just semi-pro comedians — particularly in a city as (relatively) small as Madison. That 30-second round should go at least a minute to give those less accustomed to the stage more time to think and not freeze up. If I just want to see some improvers do their thing, I'll go to an improv show.
But I hope it comes back. Nerdy Madisonians, tell someone you liked the show. Tell Pundamonium. Tell High Noon. Tell Scott Walker. Yeah. That sounds right. Tell Scott Walker.